The Dressage Horse Optimized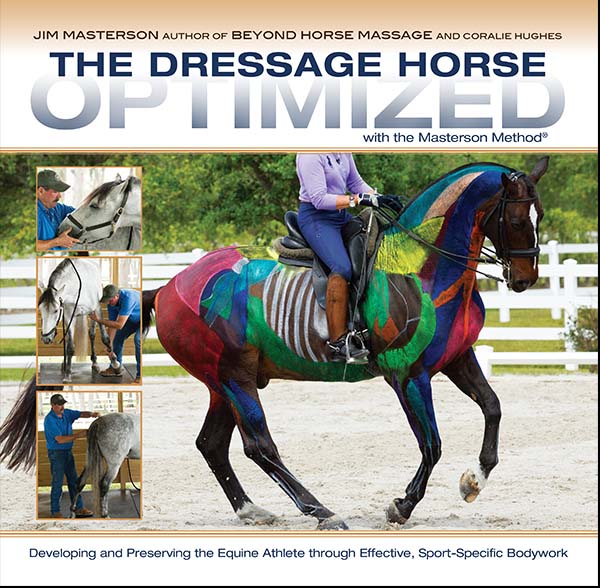 Dressage Movements Revealed
Biomechanical Concepts and Bodywork—Using the Masterson Method Jim Masterson with Susan Harris, Betsy Steiner & Coralie Hughes
The creator of the Masterson Method brings you a new instructional DVD that addresses the unique expectations and demands put on the horse's physiology as he moves up through the different levels and movements of dressage. Here you discover what goes on with the horse's body during dressage training, enabling riders and trainers to recognize when a horse may be developing physiological issues. Specific Masterson Method bodywork techniques are shared to help riders meet the unique demands on the dressage horse.
A horse painted with skeleton and muscles by renowned author and artist Susan Harris (creator of the first "painted horse" Anatomy in Motion DVDs released in 2005), performs upper level dressage movements that exhibit extension, collection, bending, and lateral movement. Dressage rider and trainer Betsy Steiner helps demonstrate how it feels when muscle tension or lost range of motion make it difficult for an otherwise trained horse to perform the movements required of upper level dressage performers.
Jim Masterson, the official Equine Massage Therapist for the 2006 and 2008 and 2010 USET Endurance Teams, and for equine clientele competing in FEI World Cup, Pan American and World Games competitions, developed a system in which the horse participates in the bodywork process by showing the practitioner where tension has accumulated, precisely how much pressure is needed to release it, and when it has been released. The result is an effective method of bodywork that anyone can learn to use, to improve performance while at the same time opening new levels of communication and trust with the horse. Jim is the author of the bestselling book Beyond Horse Massage and the DVD of the same name. He teaches Masterson Method™ seminars and advanced courses to horse owners, trainers and therapists worldwide (mastersonmethod.com).
Books Translated From German By Coralie Hughes
Balancing Act
The Horse in Sport — An Irreconcilable Conflict?
Dr. Gerd Heuschmann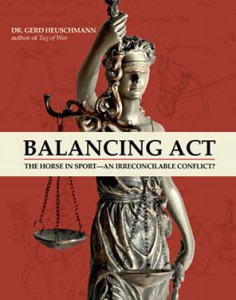 Dr. Gerd Heuschmann burst onto the international equestrian scene with his startling expose Tug of War, in which he demonstrated with words and photographs the disturbing effects of the (then) popular "Rollkur" or "hyperflexion" technique in training dressage horses. In his long-awaited follow-up book, Dr. Heuschmann explores what it means to be a "responsible rider," and asks whether, in today's society, it is indeed possible for riders in any horse sport to put the good of the horse first and foremost—most pointedly above ambition and fame.
With fabulous art to help show the anatomy of the horse and how it is impacted by various riding techniques, as well as further proof that—although some steps have been taken to prevent the use of forceful and cruel techniques in the training of top horses—many sport horses still perform in pain and discomfort, this book is sure to follow in its bestselling predecessor's footsteps. Dr. Heuschmann's arguments are based in his experience as a veterinarian and his knowledge of the working equine's body, and are certain to ring true with every serious rider who also claims to be an avid horse lover.
DR. GERD HEUSCHMANN trained as a Bereiter (master rider) in Germany before qualifying for veterinary study at Munich University. There he specialized in equine orthopedics for two years before accepting a post as the head of the breeding department at the German FN, which he eventually left to start his own practice in Warendorf. He has been an active member of the "hyperflexion" (previously referred to as Rollkur) debate, weighing in at the 2005 USDF National Symposium and the 2006 FEI Veterinary and Dressage Committees' Workshop. His book Tug of War and his DVD If Horses Could Speak are international bestsellers.
Ridden
Dressage from the Horse's Point of View

Ulrike Thiel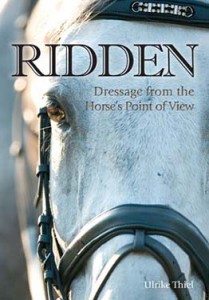 What does the horse feel when a rider is crooked in the saddle?
What is it like to go faster or slower, to round curves and travel straight, with an unbalanced load to carry?
What goes through the horse's mind when he is over-flexed and over-aided…when he is forced into biomechanically unsound positions?
What happens when a prey animal (the horse) must learn to defeat his own preservation instinct and perform on cue with a predator (humankind) clinging to his back?
In this important book, Dr. Ulrike Thiel—a clinical psychologist, psychotherapist, sport psychologist, dressage rider, riding instructor, judge, and Xenophon Society classical trainer—examines these important questions, and others. With the use of exercises and astute comparisons, Thiel gives readers an eye-opening tour of the realm of the ridden dressage horse, ensuring we all work to make the job of "being ridden" part of a mutual pursuit—a dance involving two engaged and caring partners, a friendship binding mind and body.
Balancing Act and Ridden are available from Trafalgar Square at Horse and Rider Books.com