Equine bodywork for performance enhancement: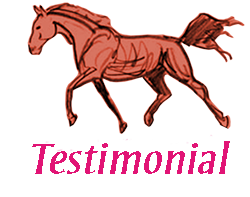 CANELO is a 18 hand Rheinland Pfalz Saar gelding. I bought him when he was 18 months old. When he turned 2 yrs I broke him out on my own with lesson from a trainer. Turned him out for two years. Then brought him in at 4yrs to start working him under saddle.
As he grew and matured, he had a few problems starting with OCD in both hocks and fetlock joints in his hind end. Three years later he had string halt surgery on his right hock. A few years later, my Veterinarian did an ultrasound on his right hock and found that he had a tear in his meniscus. She did  the PRP treatment on him and in three months of recovery he was better. Then my Veterinarian felt
that he was an EPSM horse. So ,I started feeding him a diet with high fat, as recommended for horses with this condition. After many years with this condition he has become very guarded and tense through many areas of his body, especially his right and left hind legs. This has made it difficult for him to be loose in his walk, trot and canter, and lateral work was almost impossible for him. It wasn't just physical, but neurological also.  
The vet recommended that I have Coralie do bodywork on him. After the first time Coralie started to work on him there was a significant difference in CANELO. He felt good to start. He would pick himself up at the withers when he took off at the trot. He was loose through his back and hips. He had a lot of expression in his movements. He came on the bit with ease and pushed with his hind end. It was incredible to ride. She has worked on him four times now and each time he becomes more comfortable with what I ask him to do. He also feels more comfortable to ride also. I am looking forward to more improvements and can't wait to see what the furniture holds for my CANELO.
Coralie is a certified practitioner of the Masterson Method, which is a method of equine bodywork using the horse's response to the practitioner's touch to release tension in the key junctions of the horse's body that most affect performance: head/poll and neck, shoulders and withers, lumbar/pelvis and hip. The method seeks to restore the normal range of motion in those key junctions that most affect equine performance. Coralie selected this method to learn because of the durability of response, the softness to the horse and the high level of effectiveness.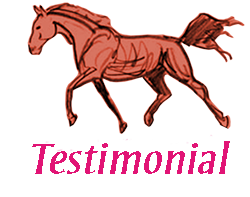 "My horse is a very tense horse to ride, short strided and rigid in the poll area.Coralie felt he was locked up in his front end and I think her work was absolutely beneficial and my horse loved it. I could see an increase in the range of motion of his back, hocks, shoulders and front legs. When I rode him he was extra energetic but calm and I was able to ask for increased bend which he gave willingly.I give this treatment 2 thumbs up and will continue to use it." EA
Helping Kelly, an off the track thoroughbred now serving his lady in dressage, loosen the muscles of the poll and gain mobility in the cervical vertebrae.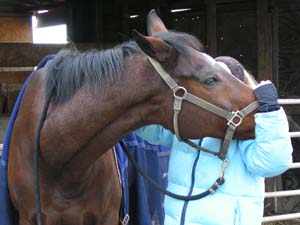 With the Masterson Method TM, one asks the horse to release the tension, there is no force used to release restriction. As the restriction, which is usually caused by targeted muscle tension, is released, mobility of the joints and range of motion improve.
Carefully watching the horse's body language, such as blinking in response to the bodywork, acupressure and myofascial release techniques are applied to loosen tightness and restriction in the shoulder.
The horse is invited to release tension in the process of improving range of motion in the leg and shoulder. The leg is not pulled on as in the notion of a conventional stretch. The horse does the releasing.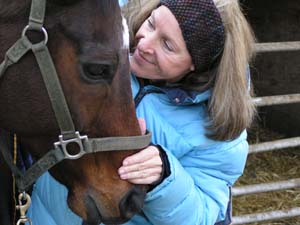 About to steal a kiss on Kelly's forehead while checking the freedom of the cervical vertebrae on the right side.
Relaxing his hind leg before slowly asking for release of tension and improved mobility of the major joints of the hind leg.
"My horse, Briscoe, has had a sore back since I purchased him 2 and 1/2 years ago. The veterinarian who did the pre-purchase exam did not catch his spasms in his back before I bought him, and actually gave him a passing grade on his muscular-skeletal system. Two weeks after I purchased him, our barn manager ran her hands down his back and his back spasmed very badly. I had my vet examine him, and we decided to give him cortisone injections in his most sore areas of his back. Then I hired an equine massage expert. For about 3 months, he had bi-weekly massages, and light work. There was some improvement, but not substantial. I then ordered a new saddle, an Albion, MW, 17 and 1/2. I started working with Briscoe with a trainer. After a few weeks of lunging and riding, he began bucking when we lunged him. My trainer suggested having his back examined again. This time, the vet found that his back had returned to its original sore state. We decided to give him a few months off. I believe we even started a second course of cortisone injections. I also came down with an illness that prevented me from riding. So Briscoe had many months off. I decided to try a new saddle after returning to riding, and worked with another saddle fitter to order a County saddle. We ordered a MW 18. I began riding quite a bit and taking lessons. Briscoe seemed to be doing better. I rode him for about 4 months, 3-4 times a week. The last time I rode him he seemed to be doing fine. However, when I asked him to canter, he bucked me into the air. I went through a fence in the arena. I had a mild concussion, but still lunged him. My trainer rode him the next day and said he felt very stiff and uncomfortable. I had the vet return to examine his back. It was very, very sore. The vet thought he might have a fracture. I decided to take him to Rood and Riddle and have him x-rayed. After the x-ray, the physician decided that he did not have a fracture, but instead had osteo-arthritis in his vertebrae, and recommended a treatment of anti-inflammatory medications, which we gave him for 3 weeks. After that, I decided to take a lesson from JK and brought him out into the arena for my lesson. As I began to lunge him, he took off wildly and began bucking all over the arena. We finally calmed him down enough to get the saddle off and him back into his stall.I then read about mesotherapy and asked Dr. E to perform it on his back. Briscoe had two treatments of mesotherapy. He initially responded, but it wasn't long before his back was sore again. Dr. E recommended at this point that Briscoe be put out to pasture. He did not feel that his back would ever improve to a point where I could ride him safely. Then I began taking lessons at Equus, and met Coralie. JC recommended that I try Coralie's Masterson Method on Briscoe. Coralie has worked twice on Briscoe, and it has been absolutely amazing. His back was so tight the first time I lunged him that he wasn't moving his back muscles when he trotted and cantered. His back improved substantially even after one visit. After two visits, even Dr. E felt that there was an improvement in his back. This is the first time Dr. E has mentioned that there has been an improvement in Briscoe's back. I feel that with additional treatments, his back will improve to an even greater degree. Coralie also quickly identified Briscoe's back problem, in that he has a very short back and rib cage, and will need a much smaller saddle to be ridden in than a size 18. I was probably bouncing on his kidneys in my size 18, which was causing him great discomfort. I am surprised he didn't buck me off sooner, but he has such a good temperament, that I feel he was just tolerating the pain.In summary, I have a horse with a sore back and basically tried everything to improve it, including cortisone injections, massage therapy, anti-inflammatories, new saddles, rest, and mesotherapy. The only treatment so far that has seemed to help him is the Masterson Method as performed by Coralie Hughes. I am confident that with further treatments his back will get better and better, to a point where he can be ridden again. I plan to keep Briscoe, and when his back is substantially better, to get a new saddle, size 16, and ask a small young lady I know to begin riding him again. I now am confident that there is a future for Briscoe beyond being a pasture horse.Thank you, Coralie and Jim Masterson."
Sincerely,DB